Alison Hooper Keslake | Owner/Artistic Director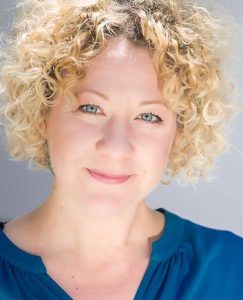 As a well-rounded professional dancer, choreographer, and talented instructor, Alison's work can be found all over the globe. She has worked and choreographed on stage, film, and aboard cruise ships. She choreographed the 2017 Governor's Ball at The Emmy's, choreographed and starred in the MTV pilot "Making of a Real High School Musical," had her innovative choreography help new recording artist, Berko, with his first music video, and staged the NBC special The Great American Patriot Award – A Tribute to Bob Hope onboard the USS Midway. Alison has also choreographed several musical productions in Southern California including Footloose, Joseph…Dreamcoat, The Little Mermaid, Beauty and the Beast Elf, Legally Blonde, and Seussical the Musical. She was also the choreographer of the critically acclaimed "An Evening with the Egos" at the Breadline Theatre (Chicago, Ill.)
In the fall of 2001, while choreographing a holiday production, Centre Stage Dance Academy Owner/Artistic Director, Alison felt that her career was at a turning point. She had always wanted to open a dance studio where she could share her elite training and love for dance with the next generation of dancers. Alison was familiar with the Monrovia community and felt this was the perfect location to open the kind of dance studio where children could be taught in a positive manner and be encouraged to explore their creativity and enthusiasm for dance. On March 4th, 2002, CSDA opened the doors to their first studio, a small 1000 square foot building with 22 students quickly turned into a move to a larger 4500 square foot building and students overflowing out the doors.
CSDA has been proud to offer its community a unique artistic experience. With an emphasis being placed on proper technique and healthy lifestyle, an overall well-educated dancer emerges from Centre Stage Dance Academy. Alison has carefully selected a well-rounded staff of professionals working in the business. Parents are always pleased with the personal attention given to the needs of each student when it comes to class placement. CSDA prides itself on continuing to be innovative and fresh in its approach to dance as well as the arts as a whole. CSDA has truly evolved with the times and challenges its students and teachers to keep an open mind as part of the overall philosophy. We strive to make art exciting and different by constantly challenging both the body and the mind of every student.
Students are given the opportunity to perform in CSDA's annual recital held every June at the Haugh Performing Arts Center in Glendora, CA. This 1400 seat theatre is the beautiful setting for our recital. CSDA also has an award-winning, nationally ranked competition team. In her 20 years as an owner/director, both students and staff have received numerous accolades on the competitive circuit; national titles, top studio, choreography, technical excellence, showmanship, and many judges' choice awards. In addition to the comp team, many CSDA students have the chance to participate in main stage Broadway productions through their affiliation with Centre Stage Inc., a non-profit children's musical theatre company.
Former students of Alison's can be found on television and movies (Single Parents, Heathers, World of Dance, American Idol, In The Heights, and Slumberland), Broadway (Jagged Little Pill, Anastasia, Wicked, Tina, and Cher), singing and dancing for Disneyland, Disney's California Adventure, Tokyo Disney, Universal Studios (Hollywood, Florida, and Japan), various cruise lines and starring in Regional Theatre and National Tours (The Little Mermaid, The Phantom of the Opera, and Todrick Hall's Straight Outta Oz tour).
In addition to weekly classes, CSDA students are given opportunities to take master classes throughout their training as well. Such classes have featured the talents of Jessica Richens (SYTYCD), Autumn Miller (SYTYCD), Ivan Koumaev (20/20 TOUR), Shoshana Bean (WICKED, HAIRSPRAY, WAITRESS), Rogelio Douglas, Jr (National Tour IN THE HEIGHTS), Eden Espinoza (Broadway WICKED, BROOKLYN), Jerald Vincent (National Tour THE PRODUCERS), DJ Gray (Broadway assistant choreographer of Xanadu), Michelle Elkin (YOUNGER, YOUNG SHELDON), and more.